Wed 3 Jul 2013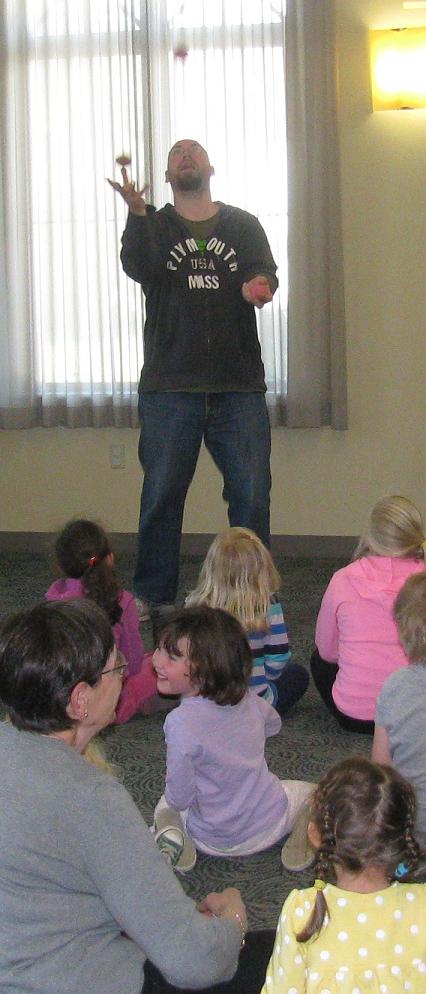 This isn't going to be a very long entry or anything - no worries there - but I always find it interesting what the children who visit my shows are most interested in.  I constantly get the questions about how I learned how to juggle.  Truth is, I taught myself how to juggle and for no other reason than I could.  I taught myself in one afternnon while working in my preschool classroom.  I was years away from even thinking about being a storyteller - but something compelled me to figure out how to juggle.
I was finishing up a game of bullseye with the kids - we were using bean bags and throwing them through holes, or "bullseyes" - and I was holding onto three of the bean bags.  As the little ones ran off to different areas I was overseeing the classroom and thinking about how I could juggle the bags in my hand.  I tried to break it down in my head - it's simple, I thought, just throw a bean bag up in the air and before I catch it throw the one in my other hand up.  Catch the first bean bag and then throw the bag in my other hand up before catching the one in the air.  I continued to think how simple it seemed in my head… and then I tried it.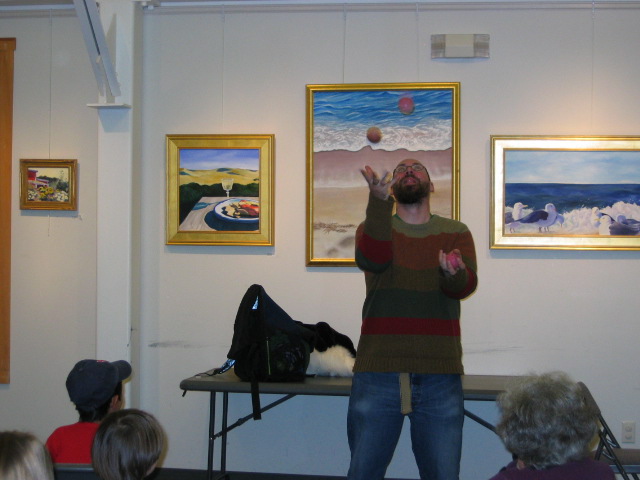 I dropped all three bags on the floor.  I picked them up and tried again.  I dropped only two - but was still no where NEAR learning how to juggle.  But I tried again.  One of the kids asked me what I was doing and I told him trying to learn how to juggle.  The boy went back to coloring, not really interested in watching me drop and then pick up any more bean bags, and I continued to try and try again.
I am not sure how many times it took me to figure it out.  I know it was about 3:00 when I started and I did one jug (that's what they call one round of juggling) before I went home at 5:30.  I am not sure how many times I picked up those bean bags and tried to catch them in my hands - but I do know I did not give up.  I continued to try until it made sense to me and I could juggle with confidence.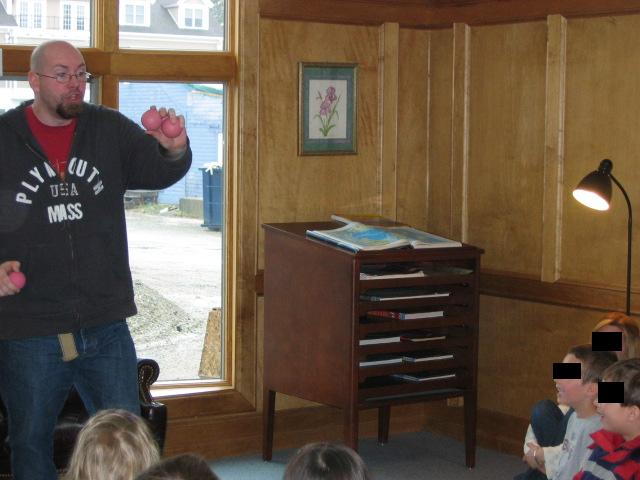 So, when people ask me how I learned how to juggle - I simply tell them - Don't give up.